Even though there are tons of websites to find work at home jobs, many of them are full of scams. This can be very frustrating and even discouraging when you're trying to find legitimate work. When I first stated working from home, I visited tons of websites to find work at home jobs. I wanted to share with you some of the sites that I found most helpful.
---
1

Wahm.com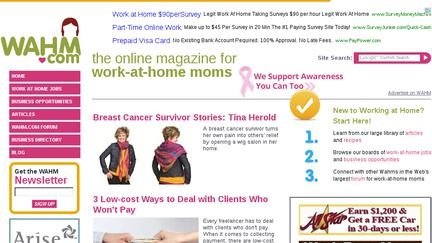 One of the most popular websites to find work at home jobs is wahm.com. It has been around for a long time and is packed with information. I honestly didn't realize that there are so many different jobs that you can do from home until I visited this site. I love that they have an active forum where you can ask questions about different jobs. If you are concerned that a job lead may be a scam, this is one of the best places to find out if it is.
---
2

Realwaystoearnmoneyonline.com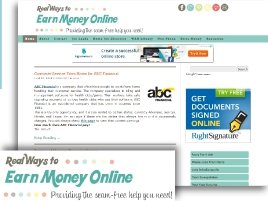 I have been a fan of this work from home blog for a couple of years. It was created by a girl named Anna T. She uses her personal experience to help others find opportunities. On her site you can read real reviews of companies that hire people to work from home. You can also read comments that others have left about their own experiences. While there, be sure to check out the job leads section to see current job openings.
3

Indeed.com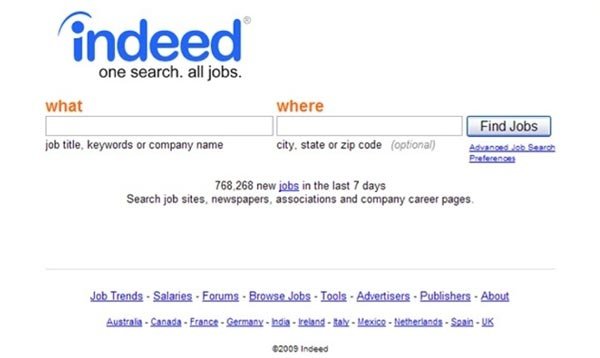 This popular job search website is primarily used for people looking to work outside the home, in their local area. I have also found that it can be helpful when trying to find a work from home. This is because many large companies use indeed.com to post their work at home jobs. If you've been thinking about working from home as a customer service or sales representative, this is a great place to start.
---
4

Wahadventures.com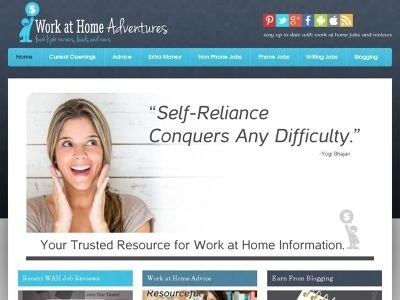 This is another great blog that is similar to realwaystoearnmoneyonline.com. It was created by a girl named Miranda, who has been working from home since 2008. On this site she offers tons of great tips about finding jobs. She also offers a lot of useful advice about running a business from home. My favorite thing about this website is the directory, which has a list of all of the companies who hire people to work from home.
---
5

Ratracerebellion.com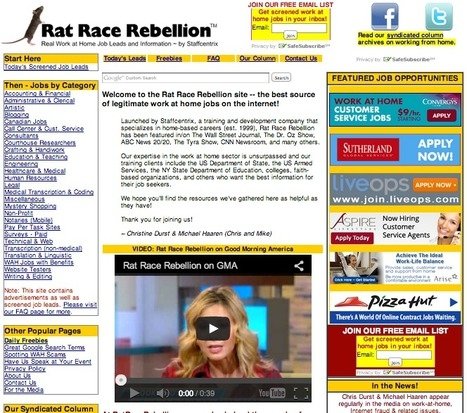 If your main concern about working from home is getting scammed, you should check out this site. Rat Race Rebellion screens all of the job leads that are posted on their website. They also have resources about how to spot scams. You will also find some good job tips that can really come in handy if you've been having a difficult time getting hired. While on this site, be sure to check out the freebies section for free job resources and coupons.
---
6

Workersonboard.com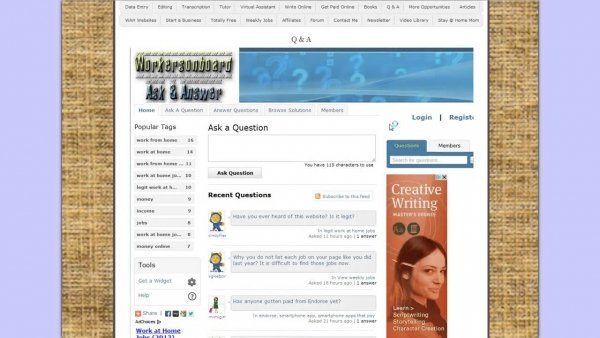 This website has a lot good information for those who are interested in working from home. It has job leads, freebies, and some very informative articles. One thing that I have really enjoyed is the question and answer section. Be sure to sign up for the weekly newsletter, which features information about their latest job leads.
---
7

Workathomemomrevolution.com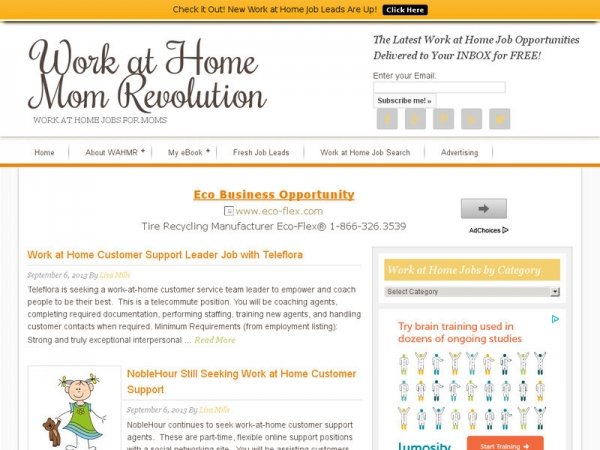 This website was created in 2007 by a stay-at-home mom who has been working from home for many years. She has some really awesome posts which contain things like job reviews and advice about starting your own business. You can also register to have new job leads sent right to your email. Be sure to check this blog often because it's updated daily.
For me being able to work from home has been such a blessing. If you're currently looking for a job, I hope you find some of these sites helpful. If you already work from home, do you know of any websites that may help others find employment?
---
Comments
Popular
Related
Recent